Disability Services in Logan, Utah
Day Supports
Improve or maintain a participant's job-readiness skills, work abilities, dexterity, stamina, memory, personal safety, social skills, self-help, communication, mobility, life skills and to participate in and contribute to their community. Disability services are provided in a Center-based setting and in the community.
Supported Employment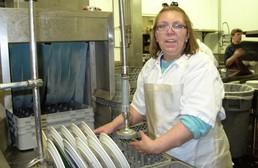 Helps the participant obtain, maintain, and advance in competitive employment in integrated work settings on a full or part-time basis. Participants are supported in positions that are consistent with their strengths, resources, priorities, capabilities, and interests. Services include Job Development, Individual Placements, Group Placements and Mobile Work Crews.
CETC works closely with Vocational Rehabilitation to promote employment opportunities.
Seniors Program
Designed to assist the participant in maintaining skills and stimulating social interaction with others. Community activities, recreational and leisure skills are emphasized for Seniors with disabilities 55 and older.
Youth Summer Programs
Provides community and recreational activities for youth and children while caring for disability needs.
Therapies
Music Therapy uses instruments, singing and dance to stimulate memory, social interaction and self-confidence.
Speech Therapy provides assessments and tools to improve communication.
Massage Therapy improves well-being and helps muscles respond optimally.
Home Supports
Assist the participant and/or families in the homes to prevent unwanted out of home placement. These supports include:
Respite – provides temporary relief from the daily routine of caring for a family member with a disability.
Supported Living – provides assistance, training and support for participants who live with their families, in their own home or in an apartment. Training activities can include meal preparation, routine household care, activities of daily living, and community activities.
Host Home – provides a family residential setting that supports the participant with daily living activities and monitors their health and safety needs.
Transportation
Services provide access to the community for employment and community access, which promotes inclusion and avoids isolation.
Title VI Compliance
It is the policy of CETC to ensure compliance with Title VI of the Civil Rights Act of 1964 and all related statutes and regulations. No person shall, on the grounds of race, color, or national origin, be excluded from participation in, or be denied the benefits of, or be subjected to discrimination under any program or activity of CETC. Any person who believes they have been discriminated against on the basis of race, color, or national origin by CETC may file a Title VI complaint by completing and submitting the Agency's Title VI Complaint Form. If you need a copy of the complaint form or if you need the information in another language, please call the Executive Director at 435-752-7952.